Kalodei Berlin Reversible FancyFacie | FanAtique Duo
PROCESSES/SHIPS | DE: 2-4 Days | EU: 4-7 Days | USA etc: 12 - 30 Days
Wende-Maske* DOPPELPACK!
100% Handarbeit aus Berlin. Abnehmbaren Nasenbügel.
Einfach bestellen und beim Auschecken Deine Größe (S, M oder L) in den Abschnitt "Zusätzliche Anmerkung" notieren. Siehe Größentabelle
*Siehe Produktinfo, Größentabelle & Galerie
Simply order and during check out, write your size (S, M, or L) in the "Additional Note" section.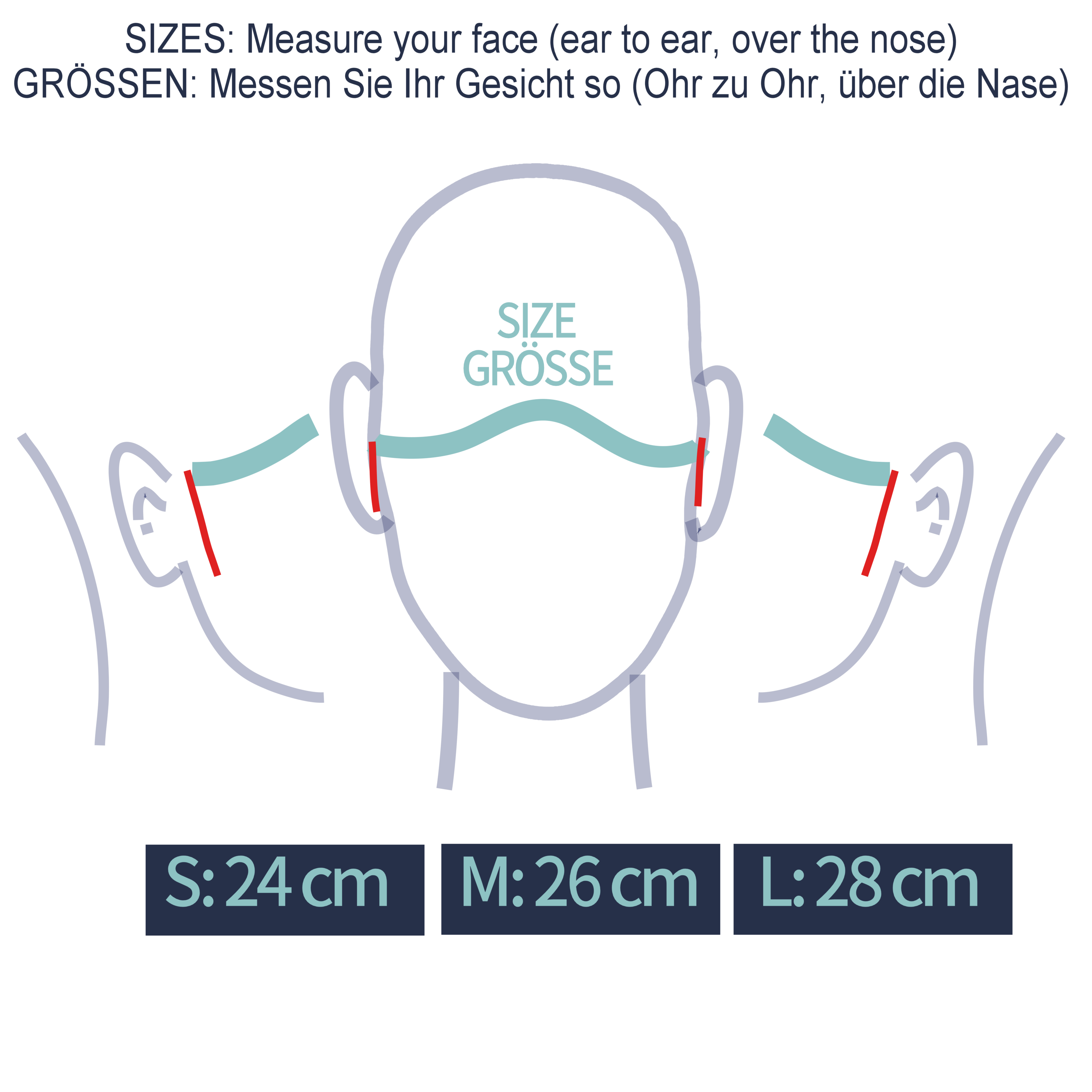 Die "KalodeiBerlin CoolFacie" wird zu 100% in Handarbeit von der Berliner Künstlerin Ebele Okoye (Omenka Ulonka) @omenkaulonka gefertigt.
Das Motif ist eine unikate Zeichnung und wird direkt auf der Maske  vor dem Nähen von ihr gezeichnet bzw. gemalt.
MATERIAL
Deine Maske besteht ja nach Model aus 2 Schichten: 100% Baumwolle – Fasern oder eine Mischung von Baumwolle und Polyacryl
Die optionelle rostfreien Aluminium Nasenbügel werden von der Firma "Baublechnerei Mathias Dörr GmbH" hergestellt.
Alle NASENBÜGEL sind ABNEHMBAR. So kannst Du sie wenn Du magst, zum Waschen oder für Desinfizierung in der Mikrowelle abnehmen und danach wieder reinschieben.
Aber – BITTE – Masken mit Nasenbügeln NIEMALS in der Mikrowelle reinigen!!!
ZUSÄTZLICHE INFORMATIONEN
Die Stoffe werden vor dem Verarbeiten bei 90° gewaschen, um die Farbe gründlich zu fixieren bzw. Restfarbe zu entfernen.
Die Masken werden vor dem Versand desinfiziert. Dieses kann unter Umständen zu einem "seltsamen Geruch" führen. Bitte mach' Dir keine Sorgen: das Desinfektionsmittel hat eine biologische Basis und entspricht Eco – Standards. Trotzdem empfehlen wir, die Masken vor dem ersten Gebrauch bei 60° zu waschen**
DEINE ZUFRIEDENHEIT IST UNS AM WICHTIGSTEN
Es ist sehr unwahrscheinlich, könnte aber vorkommen, dass das Futter – trotz des Vorwaschens – noch leicht Farbe abgibt. Sollte dieses der Fall sein, melde Dich bitte unter snazzy@ulonka.com Sende uns ein Foto und wir versprechen Dir umgehend entweder eine neue Maske oder eine Rückerstattung.
ACHTUNG!
Deine "KalodeiBerlin ArtsyFacie" ersetzt keine Schutzausrüstung für medizinische Zwecke. Wenn Dir eine Schutzausrüstung für medizinische Zwecke empfohlen wird, konsultiere bitte einen Arzt und lass Dich über die Spezifiktion der benötigten Maske beraten.
Denke bitte daran, dass Gesichtsmasken in keiner Weise andere empfohlene Maßnahmen zur Eindämmung der Verbreitung von COVID-19 ersetzen, wie z. B. "Social Distancing", regelmässige Händehygiene und verantwortungsbewusstes Verhalten.
Stay healthy! Stay happy!
Our Snazzie Facies and ArtsyFacies (Face /Fashion masks) are categorized as hygiene articles, hence cannot be returned
Otherwise, refer below
WE ACCEPT


You can also pay cash on pick up from Omenka Ulonka

SHIPPING ZONES /FEE
GERMANY : below €59 = €4.90
GERMANY : above €59 = FREE
UK : €20
EUROPE OTHERS : €17
USA: €19
CANADA: €19
ALL OTHER VALID ZONES: €22
DISPATCH
Orders are processed within two week days. After this, the given shipping time in the product page takes effect
RETURNS
It is in our interest new brands to build and maintain a very good customer relationship. Hence we'd try to take returns as much as it is logically acceptable.
You can initiate a return up to 14 days from the day you received the goods. (post stamp matters)
Read the full modalities HERE
A form is also provided there. Your order number and e-mail address would be needed.
Shipping costs are non refundable
TEMPORARY REBATES
We are giving out a 20% shop launch rebate on all products.
Just subscribe to our newsletter to get it.
PERMANENT REBATES
A membership to the Ulonka Tribe guarantees you a permanent once-a-month rebate of 20% on all products